AER 2020 Event Supplement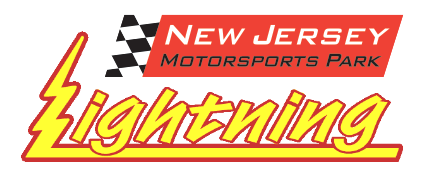 Complete NJMP's eWaiver before you arrive at the track by CLICKING HERE

You may enter the paddock after 7:00pm on Thursday.

Camping is provided courtesy of AER on Thursday, Friday and Saturday nights. This means the gate will be open and staffed on those nights so you may come and go.

Karting will be open Friday, Saturday & Sunday

Arrive 'n' Drive – 3pm – 6pm
Karting after Dark – 7pm – 10pm
Reservations required

The KARTING concession area will be open on Friday, Saturday and Sunday during the hours of 11am to 4pm with non-alcoholic beverages along with food options such as chicken sandwiches, chicken fingers, hot dogs and fries!

The Lighting Concessions area is now a vending machine area full of delicious snack options along with coffee and additional beverage options as well.

The Finish Line Pub Outdoor Dining and Bar will be open (no reservations required) MENU

Thursday – 12pm to 8pm
Friday – 12pm to 10pm
Saturday – 12pm to 10pm
Sunday – 12pm to 8pm

You can place orders for pickup from The Finish Line Pub (same hours as above) with the Toast Takeout App

Pay online with app
Pick up in 20 minutes at Pub entrance

For boxed lunches in the paddock or other hospitality needs contact Ricky Ortiz: rortiz@njmp.com

The General Store at Thunderbolt will be fully stocked with ice to purchase.

Gas will be available to purchase at the track

Stable Energies will be in the paddock to support AER with the following services:

Radio Communications – Programming and spares
Custom Ear Bud Impressions
HANS Device Recertifications
Fire System Servicing and Recertifications
They will NOT have their mobile trackside store on site but if you call by Wednesday 6/24 you can get your order delivered to the track:  973-773-3177


This event it private. No visitors or spectators allowed.

Do not bring or invite non essential team mates, crew, friends or family.

You must sign NJMP's eWaiver before you arrive at the track to enter the facilities.

Face masks required.
-Must be worn to enter facility
-AER branded masks will be provided at check in
-Must cover nose and mouth
-Helmet with visor down is acceptable
-Balaclava that covers nose and mouth acceptable

Social distancing enforced.
-Maintain six feet + social distancing whenever possible

No hand shakes, high fives or hugs.

Wash or sanitize hands regularly.

Check-in will take place outdoors and be contactless.

Drivers meetings will be held over PA and radio.

Limit socializing outside of your team.

Spread out in the paddock as best you can.

Participation is at your own risk. Attendee's with higher risk factors for COVID-19 infection must evaluate their own risk regarding participation at any race event. If attendee develops fever, cough, or other symptoms of possible COVID-19 infection, prior to, at or enroute to the event, attendee should refrain from coming to/participating in race event and seek medical attention instead.

Check with your province, state, county regarding reentry and quarantine recommendations prior to leaving for the race event. It is to everyone's benefit as well as responsibility to limit the spread of the contagion. Because a race is allowed to occur in the state does not mean the risk of contracting the virus and/or spreading it to your friends/family/ co-workers when you arrive back home, is over.


Thursday
7:00pm  Paddock open to AER participants
---
Friday
8:30 Drivers Meeting (over PA)
9:00 – 12:00  HPDE and Transponder/RFID Testing
12:00 – 1:00  Lunch Break
1:00 – 5:30  Qualifying
7:00 – 8:30  Track Walk  (nothing motorized, no alcohol, no glass bottles, bikes ok)
---
Saturday
7:45  Drivers Meeting )over PA)
8:15 – 8:45  Grid
9:00 – 5:00  Race 1 (Five, 3 minute stops are required)
5:30  Awards
---
Sunday
7:45  Drivers Meeting )over PA)
8:15 – 8:45  Grid
9:00 – 5:00  Race 2 (Five, 3 minute stops are required)
5:30  Awards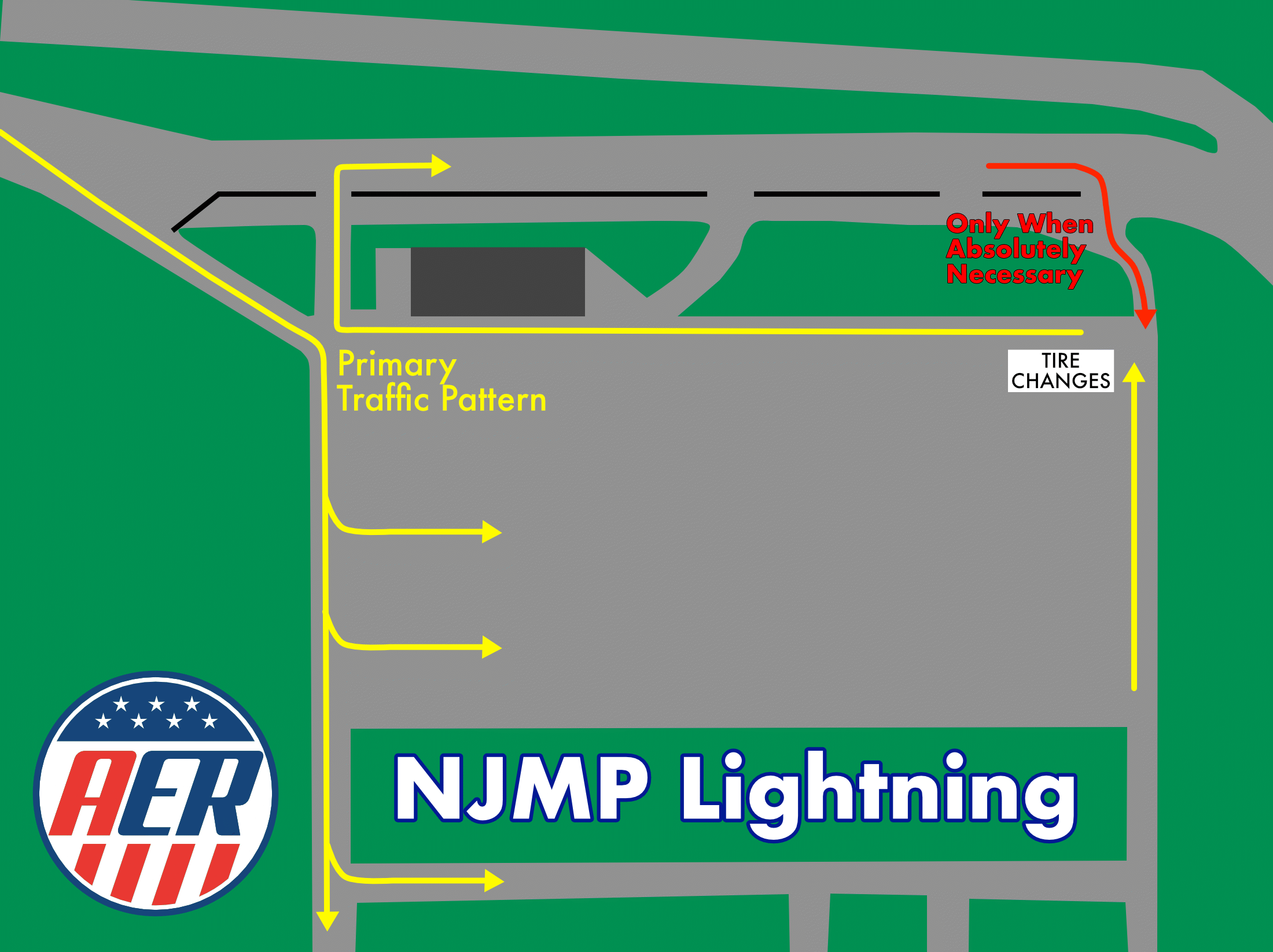 Pit Lane Speed: 35mph
Speed Within Coned RFID Lane: 5mph.
Paddock Speed: 15mph
Noise: Un-muffled engines must not be run before 8:30 a.m. or after 8:00 p.m. Please recognize that we are visiting someone's neighborhood, where they live. Let's be good neighbors, and watch our noise, traffic, and behavior as we visit NJMP. Respect the neighbors that live there.
Personal Paddock Vehicles (PPVs): The use of non-golf cart PPVs such as golf carts, ATVs, etc., is allowed in the track paddocks only. Golf carts may be operated anywhere on the facility. Operators of all motorized PPVs must register their PPV with NJMP, and the NJMP supplied PPV sticker must be displayed on the PPV at all times in a prominent location. PPV stickers can be purchased at registration. Common sense and care must be applied to the use of PPVs. Persons under the age of 17 may not operate motorized PPVs. Personal powered vehicles, including skates, skateboards, razors and similar devices, are NOT permitted in the paddock. With the exception of golf karts, all motorized vehicles driven outside of the paddock must be street legal, tagged, registered, and insured. Motorized "mini-bikes" with a 14" wheel size or smaller are strictly prohibited anywhere on NJMP property. NJMP does not permit the use of motorized bike or other motorized vehicles for recreational purposes anywhere on NJMP property. Disregard for NJMP PPV rules may result in fines and/or other disciplinary action.
Smoking: New Jersey State Law prohibits smoking in public buildings. Smoking, and E- Cigarettes or similar devices, are also not permitted in the hot pits, anywhere that fuel is being dispensed as well as in any facility building or garage.
No Shorts in the hot pits (past the fence)
Drones: The use of Drone Aircraft of any type is strictly prohibited anywhere on or over NJMP property.
Facility Damage and Replacement Rate:
(Parties deemed responsible for damages by AER will be responsible for charges)
Guard Rail and Posts – $30.00 per foot for Rails and $150.00 per unit for Posts
Oil Dry – $15.00 per bag
Banner Damage – Based on Replacement cost
Brake Markers Signs – $50.00 per unit
Paddock Electric Boxes – $600.00 per unit to replace
Jersey Barriers – $1500 per unit
Tire Bundles – $100.00 per unit
Paddock Damage from Inappropriate Behavior- TBD Damage to pavement- TBD
Event and VIP Garage Doors – $800.00 to replace entire unit; $100 to replace panel only Yellow Sand Barrels-$350.00 per unit